Cultivating and nurturing the spirituality of men and women is a proven way to help reawaken or develop a moral and ethical foundation. Faith-based programs can extend hope and lead to changes in thinking patterns, thereby helping inmates serve their time in productive ways as they prepare to lead meaningful lives upon release.
Divine Staffing's faith-based programs are diverse, completely voluntary, and available to everyone.
Vocational Programs: Learning a vocation leads to a new vision in life.
The ability to get and maintain employment is a key ingredient to success upon release.
That's why learning a viable trade is so vital. When learning an in-demand skill, it empowers them to one day become qualified employees, or even self-employed proprietors of their own businesses.
Being able to support themselves helps keep former inmates on the path of a law-abiding life. Being employed instills a sense of purpose and self-esteem. Becoming proficient in a craft bodes well for the respect they may receive in the community.
Life Skills: It takes a certain set of skills to successfully navigate everyday life as a loving, responsible community leaders.
These capabilities are what we call life skills.
Divine Staffing's life skills and discipleship programs are based on research that has uncovered proven ways to change thinking patterns, resulting in permanent changes in behavior. This Christ Centered biblical approach has been proven to bring about tremendous success in building character and the moral integrity needed to live a life of purpose and destiny. Life Skills training impacts every area of an individual's life, from coping with emotions to rearing children and from managing money to making decisions.
Christ Centered classes are designed to help men and women overcome attitude challenges and acting out in negative ways. Disciples learn how to address heart issues which transforms their ability in making better decisions for a better future.
Parenting and Family Dynamics: Many of the men and women in mental, substance abuse and prison facilities are fathers and mothers. Some statistics indicate that nearly three million children in the U.S. have an incarcerated parent. While it is hard to be part of the parenting process while not being able to be fully present for the child, discipleship programs strive to introduce and reinforce positive parental lessons that men and women will be able to walk out for years to come bringing about great healing in the family. Even while still confined, we instill strategies for disciples to build better relationships with their children as they walk out the re-engagement process.
Management of Finances and Budgeting: Being able to manage money is a critical skill. Learning how to spend in accordance with a budget can help men and women withstand the poor choices that come along with the pressures that come along with not being able to make ends meet financially.
Poor management of family or personal finances is a major problem that is by no means limited to our population. Many factors lead to broken families but one major cause is often financial issues. That's why budgeting and financial management are critical parts of life skills training. Disciples who can prioritize Godly financial principles are much more likely to be happier and more productive citizens after graduation.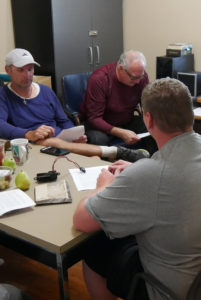 The Great Commandment
Matthew 22:36-40; "Teacher, which is the greatest commandment in the Law?" Jesus replied: " 'Love the Lord your God with all your heart and with all your soul and with all your mind.' This is the first and greatest commandment. And the second is like it: 'Love your neighbor as yourself.' All the Law and the Prophets hang on these two commandments."
The Great Commission
Matthew 28:18-20; Then Jesus came to them and said, "All authority in heaven and on earth has been given to me. Therefore go and make disciples of all nations, baptizing them in the name of the Father and of the Son and of the Holy Spirit, and teaching them to obey everything I have commanded you. And surely I am with you always, to the very end of the age." Matthew 6:33; But seek first his kingdom and his righteousness, and all these things will be given to you as well. John 8:31-32; Jesus said, "If you hold to my teaching, you are really my disciples. Then you will know the truth, and the truth will set you free."
Proverbs 16:25; There is a way that seems right to a man, but its end is the way to death.
Matthew 7:5; first take the plank out of your own eye, and then you will see clearly to remove the speck from your brother's eye.
Matthew 6:33; But seek first his kingdom and his righteousness, and all these things will be given to you as well.
John 8:31-32; Jesus said, "If you hold to my teaching, you are really my disciples. Then you will know the truth, and the truth will set you free."
Purpose: Ephesians 2:8-10; For it is by grace you have been saved, through faith—and this is not from yourselves, it is the gift of God— not by works, so that no one can boast. For we are God's handiwork, created in Christ Jesus to do good works, which God prepared in advance for us to do.
Authority: Romans 13:1-4; Let everyone be subject to the governing authorities, for there is no authority except that which God has established. The authorities that exist have been established by God. Consequently, whoever rebels against the authority is rebelling against what God has instituted, and those who do so will bring judgment on themselves. For rulers hold no terror for those who do right, but for those who do wrong. Do you want to be free from fear of the one in authority? Then do what is right and you will be commended. For the one in authority is God's servant for your good.
Attitude: Colossians 3:23-24; Whatever you do, work at it with all your heart, as working for the Lord, not for human masters, since you know that you will receive an inheritance from the Lord as a reward. It is the Lord Christ you are serving.
Timeliness: Philippians 2:3-4; Do nothing out of selfish ambition or vain conceit. Rather, in humility value others above yourselves, not looking to your own interests but each of you to the interests of the others.
Following Instructions: Proverbs 3:7-8; Do not be wise in your own eyes; fear the LORD and shun evil. This will bring health to your body and nourishment to your bones.
Accountability: Luke 16:10-12; "Whoever can be trusted with very little can also be trusted with much, and whoever is dishonest with very little will also be dishonest with much. So if you have not been trustworthy in handling worldly wealth, who will trust you with true riches? And if you have not been trustworthy with someone else's property, who will give you property of your own? Matthew 25:23;  "His master replied, 'Well done, good and faithful servant! You have been faithful with a few things; I will put you in charge of many things. Come and share your master's happiness!'
Integrity: Proverbs 20:7 ,11 ;The righteous lead blameless lives; blessed are their children after them. Even small children are known by their actions, so is their conduct really pure and upright?  Proverbs 28:18; The one whose walk is blameless is kept safe, but the one whose ways are perverse will fall into the pit.
Communication: Ephesians 4:29; Do not let any unwholesome talk come out of your mouths, but only what is helpful for building others up according to their needs, that it may benefit those who listen. James 1:19; My dear brothers and sisters, take note of this: Everyone should be quick to listen, slow to speak and slow to become angry,
Productivity: Ephesians 5:14-17 ; This is why it is said: "Wake up, sleeper, rise from the dead, and Christ will shine on you." Be very careful, then, how you live—not as unwise but as wise, making the most of every opportunity, because the days are evil. Therefore do not be foolish, but understand what the Lord's will is.
Teamwork:  Ecclesiastes 4:9-12; Two are better than one, because they have a good return for their labor: If either of them falls down, one can help the other up. But pity anyone who falls and has no one to help them up. Also, if two lie down together, they will keep warm. But how can one keep warm alone? Though one may be overpowered, two can defend themselves. A cord of three strands is not quickly broken.
Problem Solving: Proverbs 18: 13-15,17; To answer before listening— that is folly and shame. The human spirit can endure in sickness, but a crushed spirit who can bear? The heart of the discerning acquires knowledge, for the ears of the wise seek it out. In a lawsuit the first to speak seems right, until someone comes forward and cross-examines.
Adverse Situations: James 1:2-5; Consider it pure joy, my brothers and sisters, whenever you face trials of many kinds, because you know that the testing of your faith produces perseverance. Let perseverance finish its work so that you may be mature and complete, not lacking anything. If any of you lacks wisdom, you should ask God, who gives generously to all without finding fault, and it will be given to you.
Hire us!
Ready to utilize our services? Contact us today!