Commercial Car Washing Division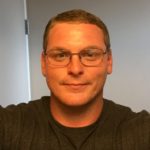 Meet Derek, a graduate of the Discipleship program in February 2016. Derek was referred to the Mission after being released from prison since he didn't have a place to live or money to rent an apartment. Derek is young, a hard worker, reliable, and demonstrates high work ethics. He began working for Divine Staffing as a Disciple doing several jobs that included working heavy machinery for Habitat; doing construction work, demolition, and commercial clean-up for Robert Wolfe; and general maintenance, repairing and doing oil changes for Divine's vehicles. Derek was promoted this year to Supervisor of the commercial car-wash team.
Derek oversees a crew of three men who are responsible for power washing about 8,000 cars a week for a group of nine auto dealerships. He has exceeded his monthly goals by increasing the numbers of cars washed up to 2,168 some weeks, beating his first-year record of 100,000 washed cars. Due to his leadership and high standard of professionalism, Derek has increased the number of commercial dealerships under contract with Divine Staffing. Clients are now located in New Orleans, Metairie, Kenner, and La Place. The crew works a four-day week, takes one minute to power wash a vehicle, and depending on the size of the lot, it takes about two hours to complete the job for a dealership.
Derek explains, "the work is done without causing water spots on the vehicles;" they use a technique called "Reverse Osmosis," which is a special water filtration system that creates spot free water. Derek is now training graduates of the Discipleship Program who enrolled on the Master's Program, which will eventually increase the number of men who are skilled to work and supervise another car washing crew. Besides training workers to learn the techniques of professional car washing, it will take funding to expand the division. Opening more accounts leads to an increase in administrative support for Divine Staffing, the purchase of an additional water filtration system, the purchase another pick-up truck to transport a second crew, and the purchase of a trailer to transport the equipment to the dealerships.
Men like Derek might be back in jail still struggling with substance abuse if not for the generosity of donors like you. Your support of our holistically designed programs and service, have enabled Derek to heal his heart issues, overcome his addiction to drugs, and experience a life-changing transformation as a graduate of our Discipleship Program. Derek is now healthy and living a purpose-driven life, saving his income, and meeting his monthly child-support payments. He is grateful to God for giving him the opportunity to live a sustainable purpose-driven life that includes spending quality time with his daughter. Derek is a work in progress and learning how to be the dad that God destined him to be.
We've included a few pictures to give you a peak into our commercial car-washing business.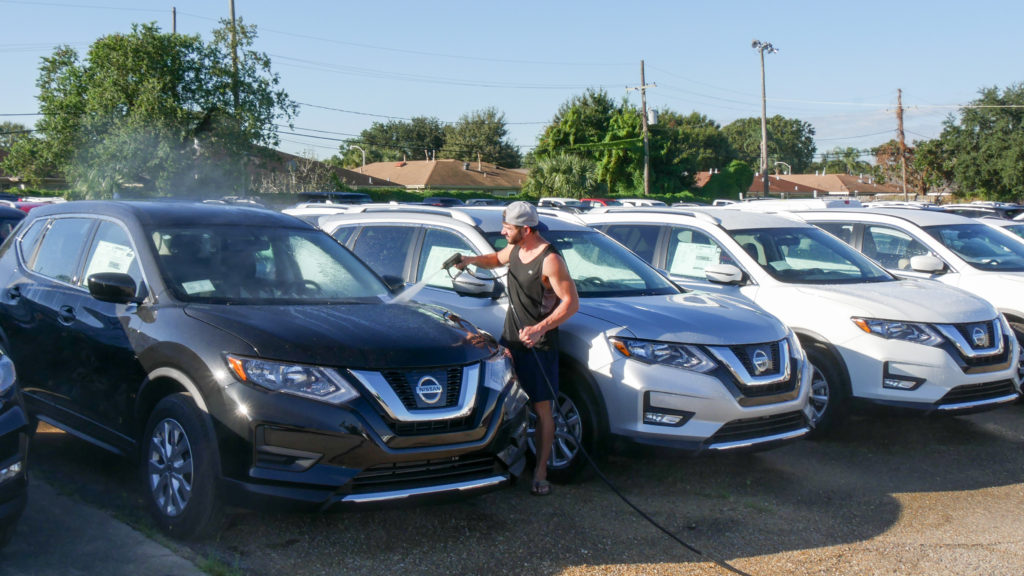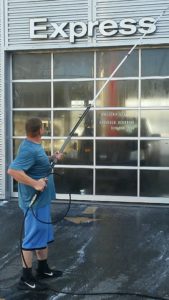 Derek Power washing the buildings at the dealership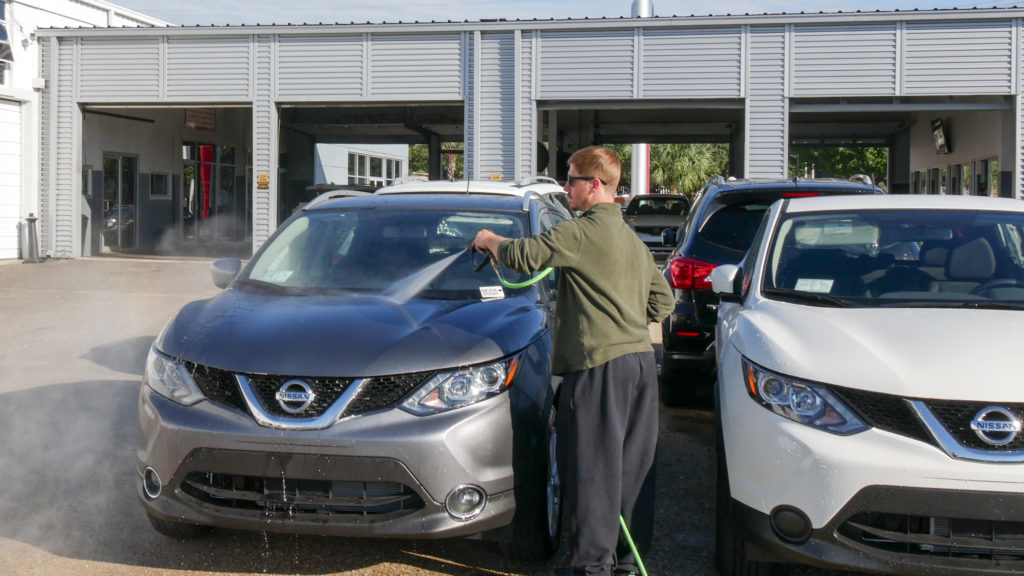 Another Disciple learning the technique of commercial car washing
Updated Lawn & Garden Division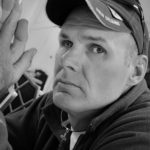 Meet Gene, a graduate of the Discipleship program in May 2016. Gene struggled with an addiction to drugs since he was 20; however, not until 18 months prior to being at the Mission, did he realize the extent of the control his addiction to Heroin had over his life. Fortunately, Gene heard about our Discipleship Program and hoped it would help change the way he was living. Soon after becoming a Disciple, Gene shared a life-changing moment that occurred at church when he felt an uncontrollable urge to get to the alter and surrender his life to God. After praying with a church member, he told us he felt a weight lift off his back and sensed a "feeling of peace in his heart."  Gene believes this was a "pivotal encounter with God."
Gene stayed on course and experienced the healing power of the year-long Discipleship Program; over time, God healed his heart issues and Gene overcame his addiction to drugs. He demonstrated a positive mind set, good leadership capabilities, and provided outstanding customer service to the clients. Gene worked with Divine Staffing as a Disciple and saved his income. Today he lives off site in his own apartment and has reconnected with his daughter, who he dearly loves, and continues building a purpose- driven life. "As long as we believe that God can change a person's life, we can unleash the power within us, and choose to live a healthy, productive life."
He was recognized early on as a leader and was promoted to Supervisor of the Lawn Care Division, which is now being called the Lawn & Garden Division because of Gene's special skill set. Gene's creative design ability has opened doors to new residential and commercial clients who have requested landscaping work on their property. He has expanded basic Lawn care service to now include installation of irrigation and drainage systems, landscaping, garden design and lighting. After working for Divine Staffing for two years, and being the supervisor of this expanded division, Gene leads by example. He directs weekly meetings with his workers and the Director of Divine Staffing to plan an effective schedule that meets both the client requirements and the Disciples' schedules; together they review a logical approach to individual contracts and the procurement of all necessary items to perform quality work for the client.
The Disciples working with Gene are receiving on-the -job training, building life skills, becoming team players, and members of a high production skilled work force. Each Disciple has the needed skills to apply for work after graduation with a respected Lawn Care employer. Many of these men lacked motivation or skills to apply for employment prior to coming to the Mission. Each worker shared stories of drug abuse or alcoholism before entering the Discipleship program; but thanks to donors like you, these men are being ministered to as they work through the trials and tests of their recovery process. They now have hope for a better quality of life along with the skills and work ethics to maximize their employment potential. They have the option to utilize our transitional housing while seeking employment opportunities and can continue working with Divine Staffing to build up sufficient savings to get their own apartment.
Here's a glimpse into the landscaping work being done and some of the workers who are on Gene's team.
Samples of Gene's Landscaping for two new residential clients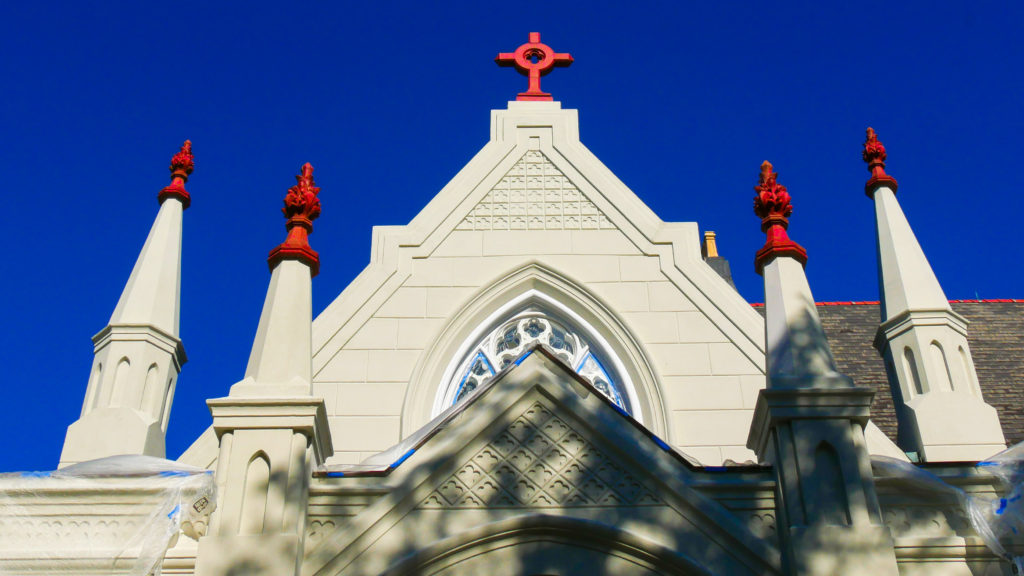 A New Commercial Client